Utah has a proud tradition of fiscal responsibility. Our ancestors established a self-sustaining community that has been carried forward through Utah's long tradition of fiscal responsibility. Stewardship of the state's financial resources has included careful investment in infrastructure, which supports a vibrant local economy. Economic prosperity, in turn, provides the resources to solve community issues and plan for the future.
HOW UTAH CURRENTLY FUNDS TRANSPORTATION AND TRANSIT
Our state legislature has proven time and again that Utah is invested in maintaining a strong transportation system to preserve and improve our transportation system. In the 2015 general legislative session Utah passed House Bill 362 Transportation Infrastructure Funding Amendments, this comprehensive approach  was a monumental effort to address part of the state's future transportation funding shortfall.
The bill raised the state's previous state motor-fuel tax of 24.5 cents-per-gallon to a 12% sales tax (equivalent to 29.5 cents-per-gallon) on the statewide average rack price of fuel. The bill sets a fixed floor of $2.45/gallon and a fixed ceiling of $3.33/gallon. This means that as the price of fuel increases, so will the motor-fuel tax, protecting against relative inflationary pressures.
Additionally, the bill provided for a local option sales tax provision that permits counties, cities, and transit a 0.25 sales tax increase as decided by the voters. The local option sales tax is a comprehensive approach that helps local communities invest in transportation close to home in the form of roads, trails, sidewalks, maintenance and transit.
Looking to the future there are still significant needs not yet met by existing funding sources. A prime example was the defeat of Proposition One, the local option in Salt Lake and Utah Counties, during the 2015 election cycle. These counties face significant growth and are the heart of the state's economic engine. In the years ahead more counties will ask voters to support local funding mechanisms. Additionally, the Legislature will need to regularly evaluate the effects and goals that current funding sources provided for transportation infrastructure.
MAJOR SOURCES OF FUNDING ARE AS FOLLOWS
STATE ROADS
Transportation Investment Fund, including the Utah Motor-Fuel Tax and other fees
State Sales Tax from auto-related sales
Federal Funding
TRANSIT
Local Sales Tax, including a local option sales tax in Salt Lake and Utah Counties
Rider fares and passenger revenues
Federal Funding
LOCAL ROADS
Utah Fuel Tax – "Class B & C Road Funds"
General fund appropriations or local  tax supplements such as sales and property taxes, or utility fees.
THE PROBLEM WITH UTAH'S TRANSPORTATION FUNDING
Simply said, Utah's transportation needs still surpass current funding mechanisms. After nearly two decades with no change, the motor fuel tax was increased from 24.5 cents to 29.5 cents per gallon and includes mechanisms to adjust to rising and lowering gas prices. Although the new motor fuel tax increase has helped address some of the 50% loss in purchasing power since the tax was last adjusted in 1997, it has not fully recovered the impacts of inflation.
Utah's Unified Transportation Plan estimates that Utah's transportation needs total $80.5 billion, with $67.5 billion in critical maintenance, preservation, operations and capacity projects.  Of the $59.5 billion in current revenue (adjusting for the reduction of the 2016 S.B. 80 Infrastructure Funding Amendments) Utah struggles with an $8 billion shortfall in funding for critical state projects. The state must continue to consider alternative and innovative ways to fund infrastructure or further increase user fees to address the full needs of Utah's critical transportation projects.
Utah is confronting growing population and congestion, generating increased maintenance and capacity concerns. We must continue to secure adequate, stable and long-term funding for our state's transportation system to support a high quality of life and economic growth in Utah.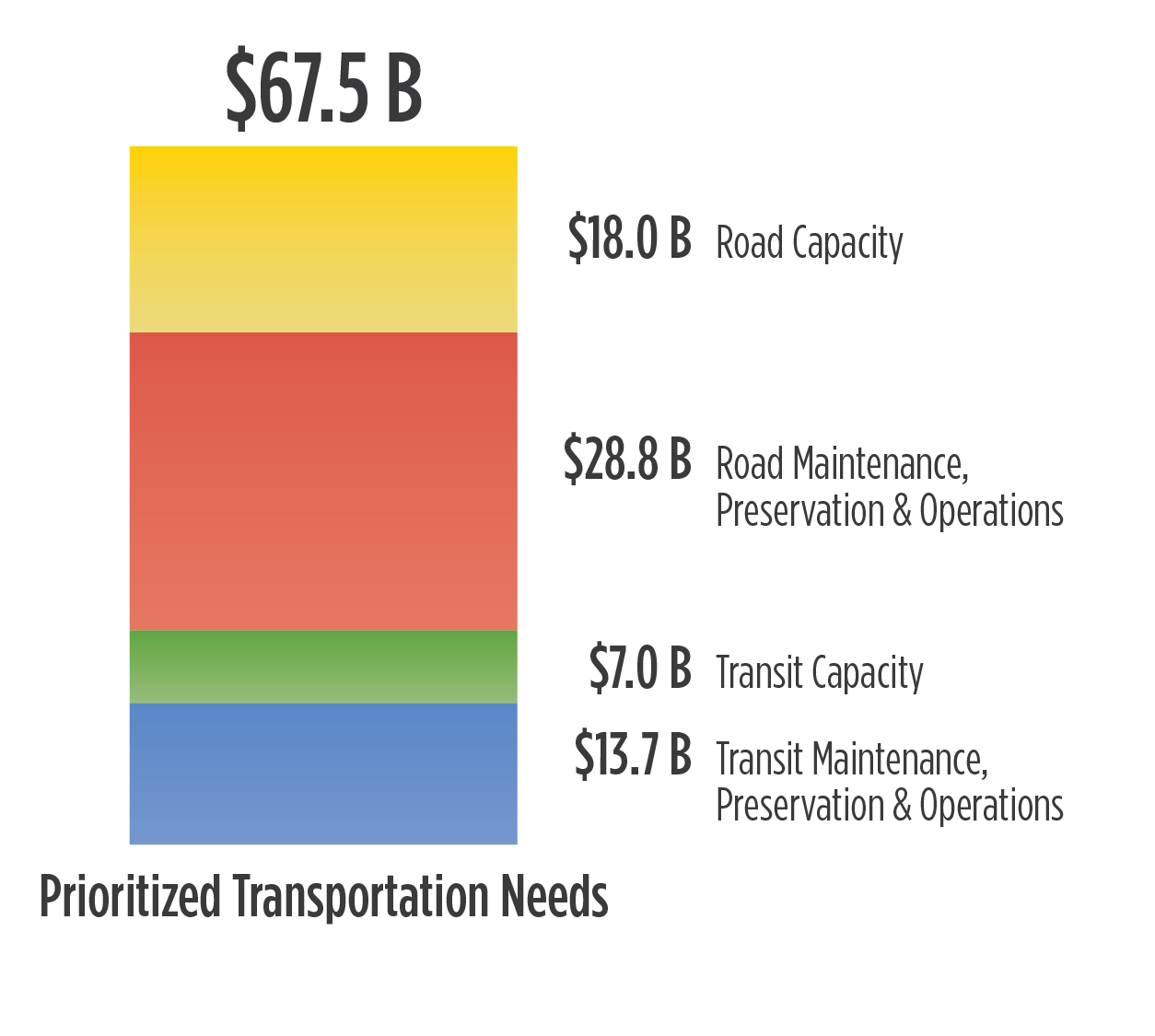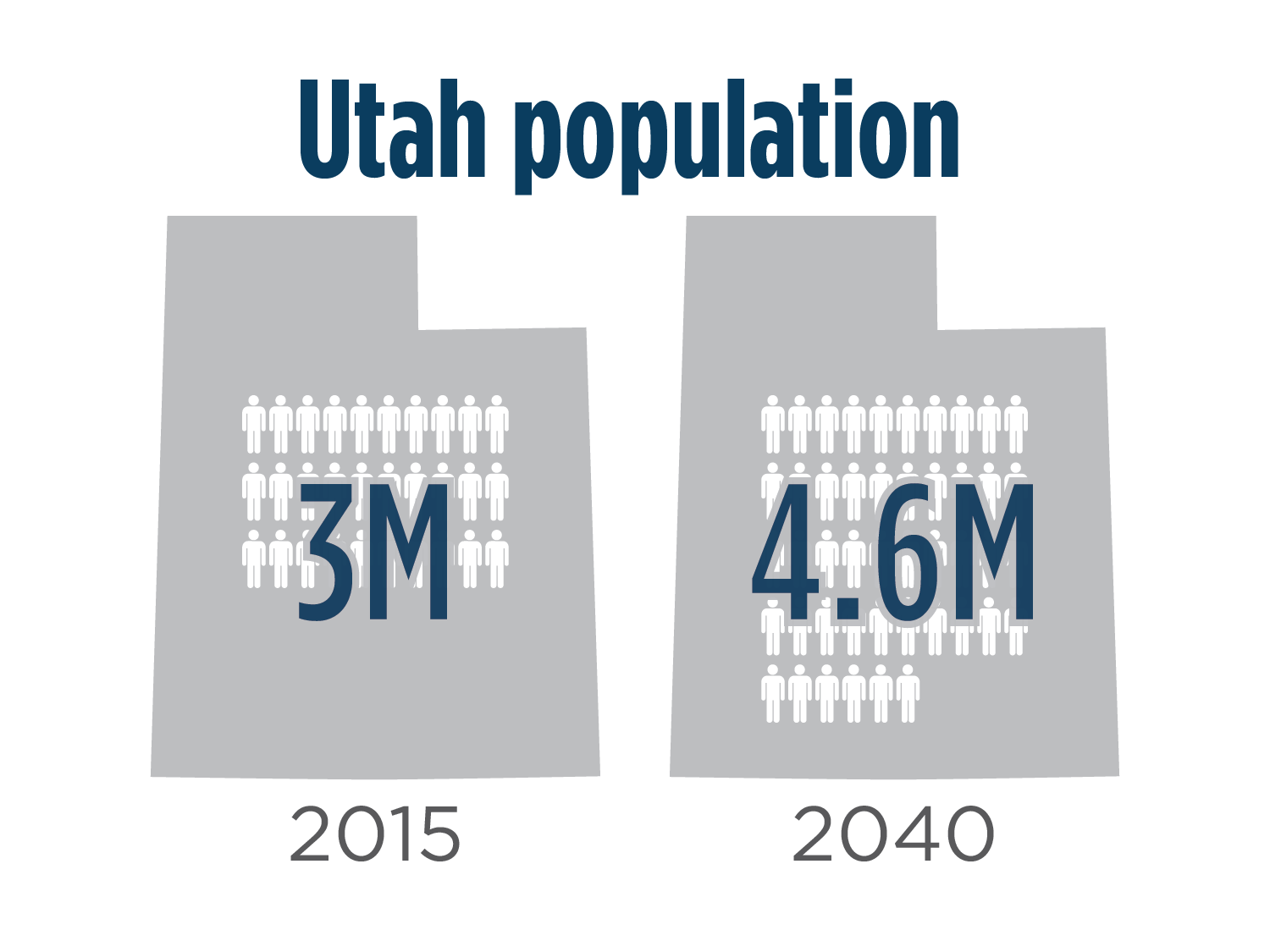 As Utah continues to grow, our infrastructure and transportation system have to keep up. In 2015 Utah's population reached 3 million and is estimated to reach 4.6 million by 2040. In order to keep Utah moving, we're faced with the challenge of not only maintaining, but also future-proofing our infrastructure. This includes building new infrastructure and preserving our existing structures.

Maintenance is no easy task. Roads, bridges, rails and other transportation assets require upkeep and occasional repair. Cities and counties are struggling to balance local transportation needs and population growth. City and county governments currently have only one-third to one-half the funds they need for transportation infrastructure. With limited budgets, local roads tend to suffer, but proper maintenance is critical to keep our transportation system functioning smoothly and to protect motorists and their vehicles. Maintaining our roads now saves money later. For every dollar you invest in preservation saves up to $25 in future reconstruction costs.
House Bill 362 has helped alleviate the 50% loss in purchasing power since the gas tax was last adjusted in 1997, however it has not fully recovered from the impacts of inflation. Some transportation material costs have increased by as much as 300 percent over the last decade. Despite recent legislative action Utah has only recovered half of this decline. That means we're still catching up in terms of inflation.
Vehicles have never been more fuel efficient, and they are only getting better. While cars using less gas is great, it means that we collect less gas tax per-capita to fund Utah's transportation priorities.
WHAT A BETTER TRANSPORTATION SYSTEM MEANS FOR YOU
Every Utahn benefits from an efficient transportation system. We all can enjoy spending less time traveling, a cleaner environment, and the benefits of having a reliable delivery system for goods and services. By implementing the Unified Plan's proposed projects  Utah's households would enjoy 3.6 fewer days spent driving annually.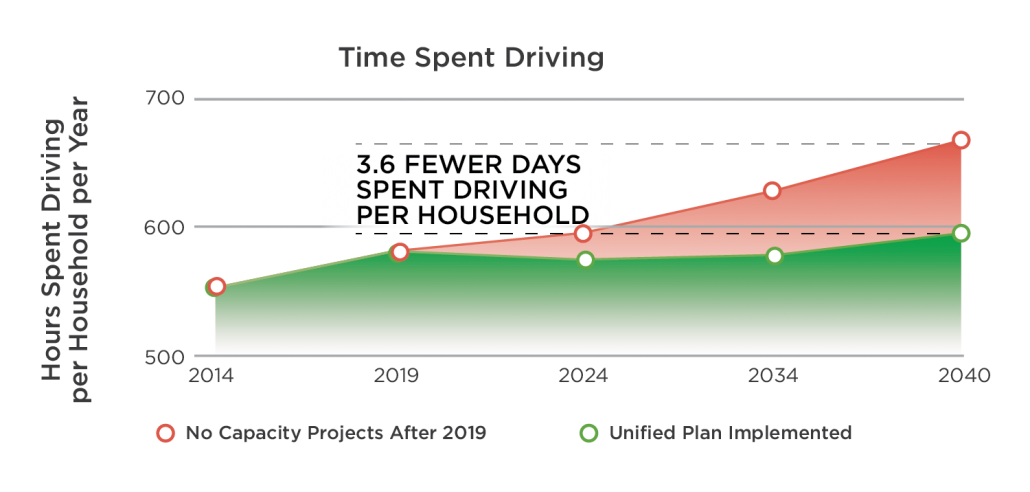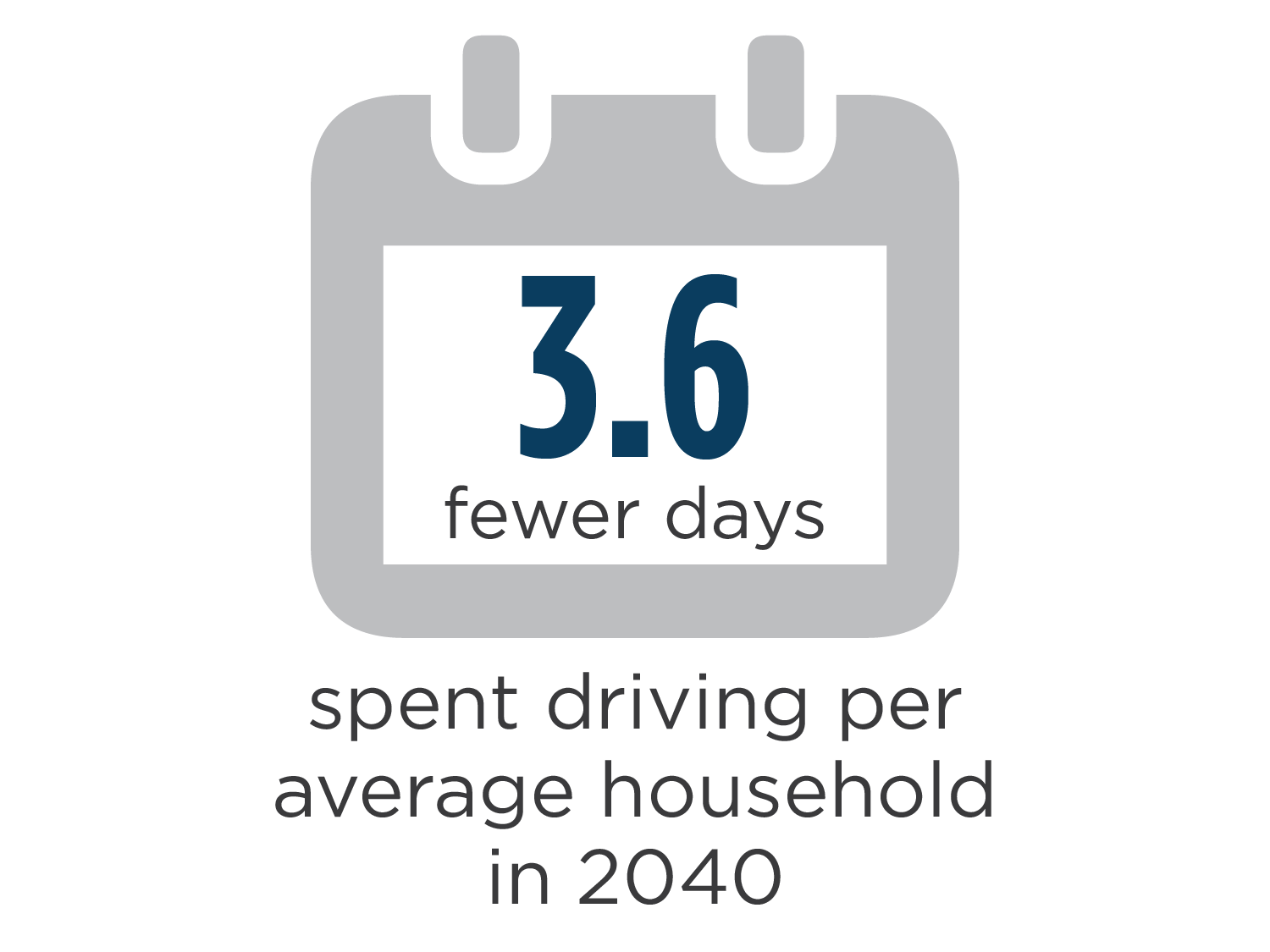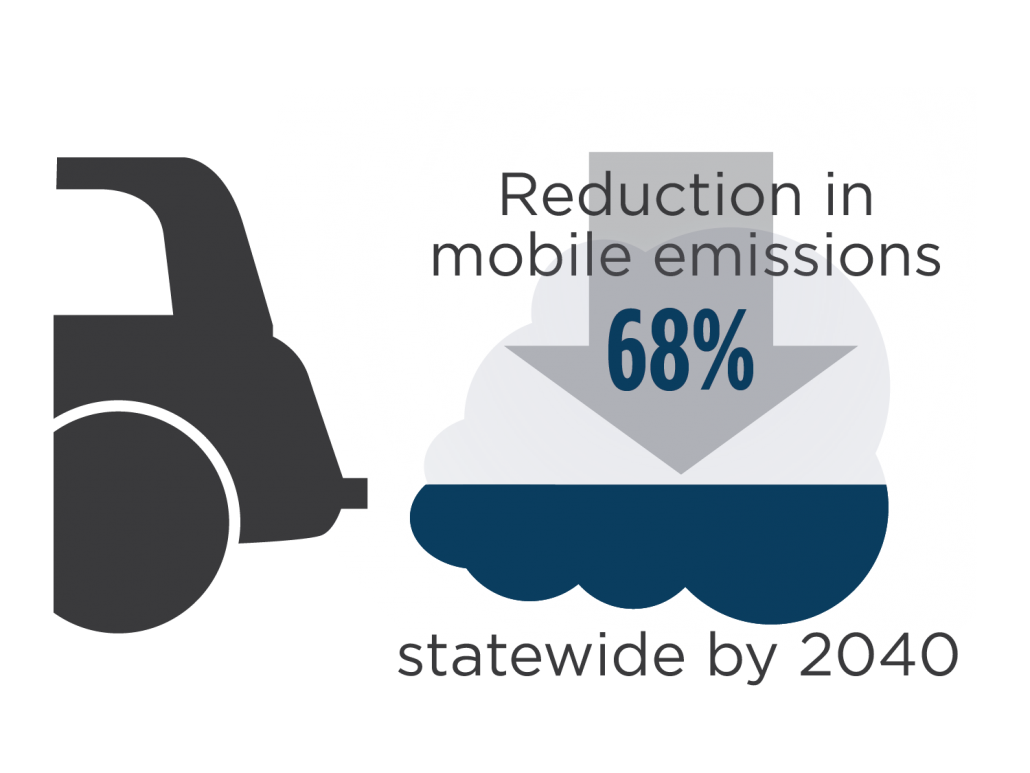 In addition to time and money, the Unified Transportation Plan will directly benefit Utah's air quality. Currently, vehicle emissions are responsible for nearly half of Utah's air pollution. Implementing the Unified Plan, along with other vehicle fuel efficiency improvements, could reduce vehicle emissions by 68 percent.
FOCUS ON PUBLIC HEALTH AND SAFETY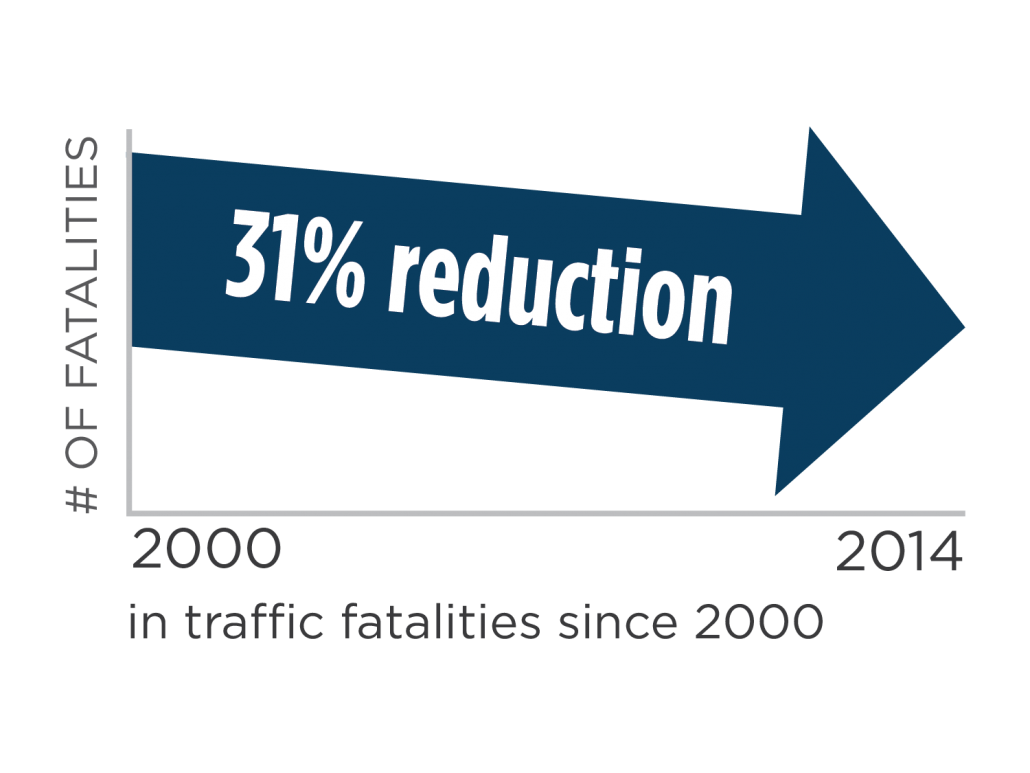 The Unified Transportation Plan even accounts for your health. Providing better active transportation options could save Utahns millions of dollars in healthcare each year. The plan encourages physical activity that will reduce healthcare costs and promote personal and public health.
Oh, and public safety? The plan's got that too. Since 2000, traffic fatalities have decreased by 31%. This is attributed in part to planning efforts by a coordinated group of state agencies through the Unified Transportation Plan. Advances in road engineering and transit also make Utah safer.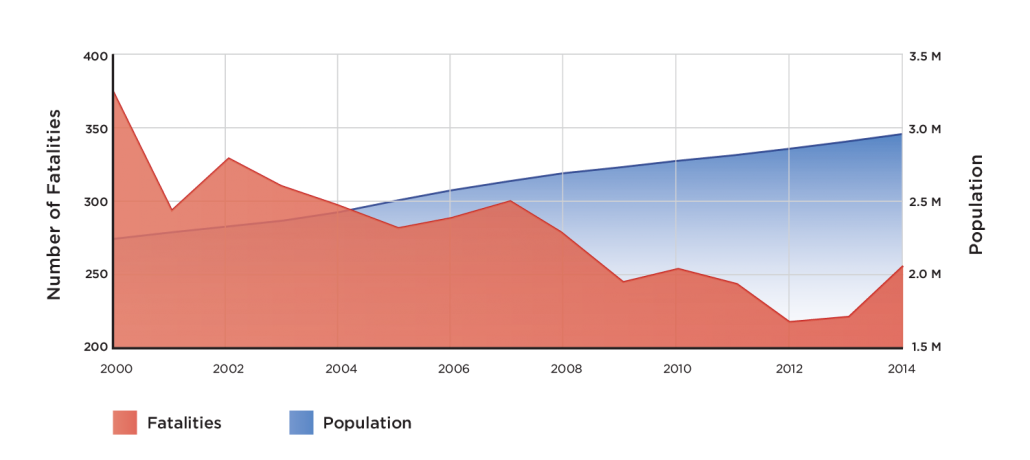 ECONOMIC EXPANSION EFFECTS
In 2013, The Utah Transportation Coalition commissioned a study on the economic impacts of Utah's long-term transportation needs. Simply said: Utah's transportation system is the backbone of our economy. If we put the Unified Transportation Plan into action, the result will be a dramatic, positive economic impact over the next three decades.
The Unified Transportation Plan will:
Improve how quickly people can get to work and will increase number of accessible jobs.
Generate 182,618 jobs by 2040.
Contribute $183.6 billion to Utah's gross domestic product (GDP) by 2040.
Grow Utah's household incomes by $130.5 billion.
Create $22.2 billion in new tax revenue*
From a business point-of-view, a robust transportation system provides:
A larger choice of distribution channels and markets.
Options for employees to more easily get to and from work.
Means for products and services to get where they need to go.